Blog
Today is Information Overload Day when around the world people are trying to combat this silent disease which is zapping our energy. Email is one of the major contributors to information overload. (Although social media now too plays a significant part.)
It's easy to improve one's own personal email management but to start really reducing email and hence information overload means engaging your colleagues and then the whole enterprise.
One way is to have an email good behaviour charter to which everyone adheres as closely as possible. Ours is called the Nine Ps of Email Best Practice. Anyone who has attended either a Brilliant Email or Take Control of Your Inbox session will be familiar with it.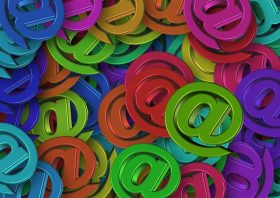 Here are the five Ps which can help you make the most difference on Information Overload Day by reducing the rounds of email ping pong and unnecessary emails.
Put aside quality time to deal with email.

Don't let all those new emails derail your plan for the day.

Prioritise what emails you need

and where they land in your inbox.

Provide time for the recipient.

Don't chase five minutes after sending. Allow at least 2 hours for a reply. If it's that urgent – see 3.

Pick the right medium.

Email might be the easiest option but it is often the most inappropriate and inefficient.

Pen your email in plain language

. This significantly reduces the rounds of email ping pong.
Adopt these five Ps of good email behaviour across your working groups not just on Information Overload Day but everyday. This will significantly help reduce information (and email) overload which has become a burden on not just business but often our social lives too.
For more resources for Information Overload Day click here.
Tags: Brilliant Email, Email Good Behaviour, email overload, Information Overload Day, Take Control of Your Inbox
We all know that email overload is the biggest drain on our ability to perform well in both social and work situations.  'Unsubscribe' is an easy to ready and witty new book from Jocelyn K. Glie.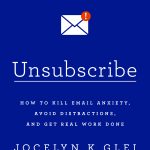 Whilst it doesn't tell us anything we did not already know, it presents the information in an easy to read format.  Also it has some very good cartoons and graphics to exemplify the points and especially in relation to how easily we can waste our day just dealing with our inbox.  Glie provides advice on how to:
Have an email detox and reduce your email addiction.
Focus and not be distracted.
Prioritise which emails to deal with and when.
Gain the recipient's attention.
Generate template emails to save yourself time.
For anyone serious about conquering email overload and re-claim their lives from the dreaded inbox this makes a useful addition to the existing books on time and email management.
Tags: email addiction, Jocelyn K. Glie, Unsubscribe
It's been an astonishing few weeks for email news. First, there was the Yahoo breach of security. Then the death of the Blackberry and now a survey from Adobe which revealed yet again just how email addiction is increasing and email response times decreasing.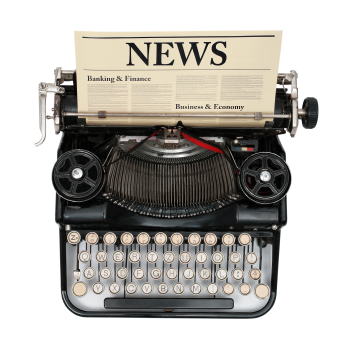 1. Addicted to email. A recent survey from Adobe reveals that 45% of users check their email even in the bathroom. A frightening 17% still read them whilst driving and 57% check them in bed.  Click here to check your own level of email addiction.
The survey also found that half the respondents expect a reply within one hour. This is twice as fast as five years ago, found in previous research from Mesmo Consultancy. Moreover our research revealed that it is usually internals' who have such an expectation. External senders being prepared to wait longer. Little wonder many feel unable to switch off despite the known downsides of the always on culture.
Although this new study is based on USA respondents, it makes interesting reading and especially for any Director concerned with improving productivity and well-being of their employees.
2.  Yahoo hacked. In late September Yahoo finally admitted that over half a billion user's personal data had been compromised when Yahoo was targeted by hackers over two years ago. Two vital actions for all Yahoo users: first change your password. Second, consider switching to an alternative such as Gmail or Outlook.
3.  Passwords are still the weakest link. Michael Chertoff, former head of US Homeland Security revealed that few people set strong passwords. Many default to simplistic ones which can easily be hacked. Click here for more on password management and how to set a secure password.
4. Are those personal apps a potential security threat to your company?  Tech companies such as LinkedIn, MySpace and Dropbox have suffered major data breaches, with security research company Ponemon putting the average cost per breach at $4m (£3.2m), or $158 per stolen record. Whilst most organisations let you use these and other apps on your mobile device, Ponemon suggest others too such as Slack, Evernote and WhatsApp, may well be a potential security threat. Once your personal device has been hacked company data on them too can easily be leaked. Although most organisations have tight security policies and practices, getting people to apply them to their personal devices can be very hard as seen above.
5.  Death of the Blackberry. That device which was heralded as the mother of improved productivity met its death in late September. Beloved by nearly as many as hated it. Responsible for more divorces than any other piece of modern technology and a nose dive in productivity and well-being should we mourn its passing or rejoice?
Although this new study is based on USA respondents, it makes interesting reading and especially for any Director concerned with improving productivity and well-being of their employees.
Tags: Blackberry, email addiction, email response times, Mesmo Consultancy, Password Management
How often do you look at an email and think hmm, this belongs in both folder A and B.  Then you think, but will I remember which one it is in?  Results, it just sits in the inbox.  There is an easy solution.  Make a copy and place it in both folders.  Here is how for Outlook users.
1.  Highlight the email in the usual way.
2.  Hold down the right mouse button and drag it to the first folder of choice.
3.  Release the right mouse button and from the drop down menu which appears choose 'Copy'.
The original email remains in the inbox/original folder but now you have a copy in the other folder too.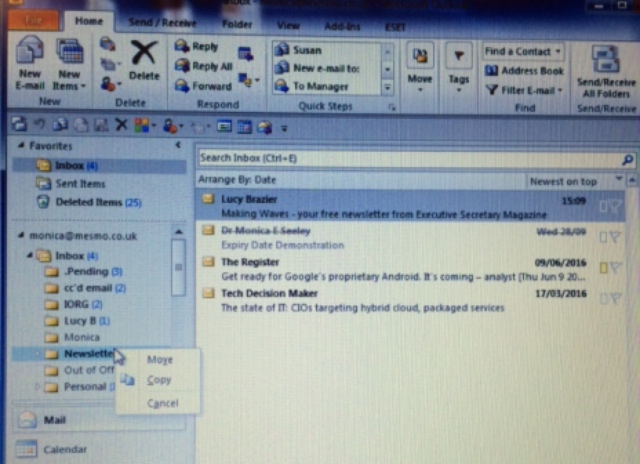 One word of warning – if the email has a large attachment and you have a mailbox limit, make sure you remove it and save it outside your inbox. Otherwise you will very soon use up your valuable storage space.
For Gmail users, give the email two 'Labels' and move it to one of the corresponding folders. It will then be visible in both folders corresponding to those labels.
For more tips like this either see 'Brilliant Email' or ask about Mesmo Consultancy's Brilliant Email Masterclasses
Tags: Brilliant Email, Brilliant Email Masterclass, Copy an email, Email folder management, Mesmo Consultancy, One email - two folders, Outlook
Team GB's performance at the Olympics set the barriers high for future athletes and sport people.  They demonstrated the importance of training and maintaining focus and a positive mindset.
W
ith glorious weather in Dorset, most of my spare time has been spent on Parkstone Golf Course with some success, winning silverware (trophies) and prize money.  In part this reflects hard work on the physical skills side but especially the mental approach.  For example, staying focused, resetting goals and targets as the round progresses for better or worse.
What has this to do with book of the month? Talking to a fellow golfer interested in the golfing mind she mentioned Anthony Robbins, a name I'd almost forgotten.  There on the bookshelf was his original mind over matter tomb – Awaken The Giant Within (first published in 1991).
There are countless books on mind over matter and some we have reviewed here.  Yet this is still one of the masterpieces.  You will find chapters on staying focused, setting proper goals, using positive words, how we make decisions based on the level of pain they will cause us, how to change our emotional state and much more.
What it lacks and more recent books now cover is the concept of two states on the mind, the rational (Human) and the emotional irrational (Chimp) as described in The Mind Management by Steve Peters which we previously reviewed.
If you have not read Awaken The Giant Within or read it some time ago like me, it is a book which is well worth re-visiting and especially when thinking about self-improvement whether at work or an outside skill.
Tags: Anthony Robbins, Golf, Parkstone Golf Course