Punctuation in the Digital Age
Tuesday June 30th, 2020, 7:48 pm
Punctuation in the digital age helps improve productivity and wellbeing.  We are all time poor.  We are used to using 'text speak' on social media apps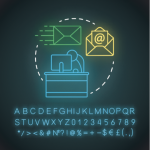 where we have autocorrect, or it doesn't matter if we make a typo, miss a comma, forget a full stop (period) and so on.  The question we are often asked in this digital age is, 'Do I really need to bother using correct punctuation with email'?
The answer is Yes!  A well-punctuated email helps save everyone's time and thus contributes to improving performance.
To download the full article, click here.
This article first appeared in Executive Secretary Magazine, a global training publication and must read for any administrative professional. You can get a 30% discount when you subscribe.  www.executivesecretary.com subscriptions@executivesecretary.com

For more time saving tips and hints why not
buy a copy of one of our books
or let us run a
Smart Email Management workshop
for you and your colleagues.