Showing items tagged with "email etiquette dos and don'ts" - 6 found.
Is it rude to stop sending polite 'thank you' emails?  Instead is it good email etiquette and helping reduce email overload and improve business productivity?  Click here to hear Dr Seeley's interview with Ross Atkins on BBC World Service on 'digital etiquette'.
Tags: BBC, Digital etiquette, email etiquette, email etiquette dos and don'ts, email overload, Monica Seeley
Make your job application stand out in a crowded recruiter's inbox – why and how.
Tags: email etiquette, email etiquette dos and don'ts, email etiquette training
Today's interview with Geoff Carter is on email etiquette – key dos and don'ts to protect your e-dress code (and especially in the light of the recent Barclays 'Hey Dude' emails).
Some useful links are:
Email etiquette goes a long way

Lessons in email etiquette
Seductive email needs discipline
Email etiquette checklist
So you think you deleted the email 
Could your business benefit from some email best practice training?  If so please contact us about our Brilliant Email Master Classes. These have been proven to help people save up to one hour a day and reduce the risk of you and your company starring in the next email media disaster.
Tags: corporate email etiquette, email etiquette dos and don'ts, email etiquette rules, email etiquette training
When will everyone understand that email and social media communications never disappear into the ether?  And why don't we realise that our emails provide an instant and probably permanent picture of us, our culture and our business office?   Good email etiquette is as vital as managing the risk of a breach of security and compliance as discussed recently on the BBC Today programme.
Today, even if we delete an incriminating email or one we'd rather forget – it will still be sitting on some server somewhere or in a 'cloud' waiting to rain down disaster at any time up to decades later.
This is particularly the case if your company is linked to the financial, legal, public or professional services world.  We all have to keep records for a minimum of six years and in regulated environments like finance and commerce, communications are often retained for ….ever and can be requested as evidence.
Sadly, history keeps repeating itself as I've been writing for over a decade about extremely avoidable 'emailgate' type disasters.  From 'Govegate', to Microsoft antitrust, Merrill Lynch, Norwich Union (in 1977), BP emails revealing lying about the oil leakage and putting cost cutting before safety, to the recent memorable and revealing emails and texts exchanged by executives, editors, MPs and even prime ministers called to appear at the Leveson inquiry into phone hacking at the News of the World. But top of the mind is Barclays, the latest large corporate brought down by inappropriate use of email.
"Dude, I owe you big time! Come over one day after work and I'm opening a bottle of Bollinger," was seductive and highly conversational.  Not really the terms and phrases you'd expect for something so important and highly sensitive as fixing the interbank lending rates. Indeed Traders made their requests in person, via email and through electronic "chats" over an instant messaging system with little concern about the content, tone or image they were leaving behind.
And that's the point.  Neither they or their organisation probably ever considered that their words would or could be broadcast worldwide several years after they were written.  Even if they had deleted the communications they would still exist somewhere and could be retrieved. The damage caused by casual communication is not just to the image of the individuals involved but can take years and large amounts of funds to rebuild the confidence of customers and the markets in which they operate.
What Barclays did was wrong.   Poor use of email and email etiquette just made the evidence easier to find. Perhaps it's time for 'slow email' and more guidance on how email is used in the decision making process?
Tags: corporate email etiquette, email best practice, email etiquette dos and don'ts, email etiquette rules, email etiquette training
Last week it was the CBI report on the need to improve basic literacy skills which prompted my blog on the dire state of email etiquette.  Simultaneously there was the excellent report 'e-nough alre@dy from Grossman Group a leading American communications consultancy.  It found that whilst email is perceived as a very effective communications tool many felt email communications needed improving.  In particular email etiquette needed attention.  The break down is shown below.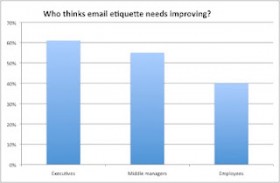 They key issues relating to email etiquette being:
Email chains – too many unnecessary back and forth replies;
Reply All instead of Reply (only to sender);
Too much Cc'd email;
Poorly written emails;
Over dependence on email when an alternative would be better (eg phone).
This looks just like the list of challenges which we hear when running workshops and asking the question 'what annoys you about email'.
Are these results surprising when so few people have ever been trained to use email properly?  What ever happened to all those workshops on letter writing which many of us who belong to Generation X had to attend?
Whilst many of us were used to writing social letters, once we started work it was off to learn about the principles of writing business letters.
Email has now become the business letter of the 21st century.  Yet why are so few organisations reluctant to run email etiquette courses?  Those that do are often shutting the stable door after the horse has bolted: their organisation has become part of the latest media disaster or emails are being used as evidence in court.  Poor email etiquette can be very costly.
Budgets we know are tight and so at the very least you could provide your staff with a set of sound email etiquette guidelines.  These should include:
Appropriate ways to greet and sign off an email
Advice on layout and structure
Words and phrases to include and conversely those to avoid
Fonts to use
Please feel free to use the Mesmo Consultancy 'Email Etiquette Checklist' posted in an earlier blog.  Alternatively we would be more than happy to come and talk about our Brilliant Email Etiquette master classes and how these can help you save time and money.
Tags: corporate email etiquette, email communications, email etiquette dos and don'ts, email etiquette rules