Books
Effective email management is a science not an art. Dr Monica Seeley has written several books about effective email management. These  include Taking Control of Your Inbox (dedicated to PAs and EAs), Brilliant Email (often called the Debrett's handbook smart business email management and etiquette) and Managing in the Email Office.
And now her lastest book:
101 Ways To Supercharge Your Productivity in the Digital Age
Have you ever wondered if there's a better, faster, more efficient, effective way to do something?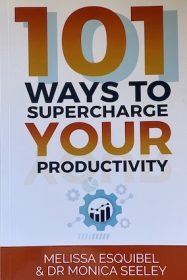 Savvy administrative professionals (and executives) ask this question each time they find themselves doing repetitive or unnecessarily complicated work. Co-authored with Melissa Esquibel this new book it contains a wealth of tips and hints across nine key areas of work that you do every day:
Communicate with your colleagues (Effective Communication)
Effective email mangement (Manageable Email)
Manage tasks and teamwork (Teamwork and Tasks)
Protect Information (Cybersecurity)
Manage calendars and diaries (Calendars and Diaries)
Maintain your well-being (Looking after Yourself and the Planet)
…and all the rest!
Melissa Esquibel is known for her unique ability to make learning technology both enjoyable and valuable and for being one of the top technology trainers in the world, particularly for administrative professionals.
Together our extensive experience training experience has enabled us to write this highly practical book which is a 'must-read' for all administrative professionals and indeed any execuitve involved in day-today administrative tasks such as managing their own diary, communicating with others and concerned about protecting their wellbeing and the enviroenment.
Click here to order a copy now if you want to save yourself time and engery in the digital workplace (whether working from home or a conventional office).
Taking Control of your Inbox
How often do you look at your inbox and shudder inwardly at the number of emails screaming, 'attend to me now'?  Taking Control of Your Inbox is dedicated to all those PAs and EAs who spend much of their day managing their own and their boss's bulging inboxes (and diaries).
It is written through the eyes of 'Sophie' an experienced executive assistant who finds it hard to stem the daily tidal flow of emails. Max the email genie from the Clean Inbox kingdom arrives to help for the day.Together they show you how to:
Clear your inbox very quickly without missing a single important email;
Manage sender's expectations so that they don't expect an instant reply;
Make it easy for others to respond to the emails you send;
Organise another person's inbox (eg your boss);
Disconnect from the inbox (especially when on vacation);
Book Reviews
"This book is essential reading for any PA or Executive Assistant in helping them manage their email inbox. It is extremely well written, providing very practical solutions to the problems of email overload and managing one's inbox. The style is engaging in a 'day in the life of a PA' format…great read but more important very useful practical advice"

Professor Sir Cary Cooper, Manchester Business School, University of Manchester
After 30+ years in this profession and I still learnt so much from this book. Brilliantly written! Loved the way the characters, Sophie and Max, shared their ideas and simple solutions to make our lives easier and less stressed whilst dealing with our over-crowded inboxes and at the same time sharing some interesting tips on email etiquette.

Michele Thwaits – President, Professional Association for Secretaries & Administrative Assistants

For those that know me, I live and breath my inbox(s) and knew many of these items, but gosh there were some amazing tips that I've forgotten over the years. An excellent read with practical advice to make yours, your colleagues/team members and bosses email more efficient. Thank you Monica Seeley and Lucy Brazier for ensuring such a great book is available to us admins.

Jacqui Prospero, 2019 Canadian Administrative Professional of the Year
Taking Control of Your Inbox will enable you to improve performance and rebalance your work-life balance whilst staying in control of your inbox.
Brilliant Email
Brilliant Email will show you how to use email effectively to win back time and dramatically improve your personal productivity and work/life balance.
Using this book, you will learn how to:
Reduce the volume of email you deal with each day;
Write your message clearly and in an appropriate style;
Select when to use email and when to use an alternative;
Slim down the size of your mailbox;
Use your email software to manage the flow of email traffic;
Help your colleagues to use email more effectively.
The principles in this book have been developed over the last decade as a result of the author's work with individuals and organisations of all sizes (from micro to global FTSE top 100). By adopting some of these basic principles of email best practice, you will learn how to take control of your inbox to dramatically improve your productivity, your quality of life and never send an ineffective email ever again.
Book Reviews
With 'Brilliant Email' Monica has created a unique reference book for email users, which combines a 'Haynes Manual' and 'Debrett's'. This book will appeal to every strata of the business world.

Jerry Stimpson, General Manager, Crown Closures UK
If there's anything you want to know about email and getting the best out of it Monica knows the answer…This book is a really good reference point for people who want to tame their e-mail addiction and improve their skills.

Tim Allen, Business Systems Manager, Balfour Beatty Rail Infrastructure
Other Books
Monica has carried out in-depth research, over the years, into how IT and especially electronic communications (in particular email) can be used to improve personal efficiency and productivity.
From her findings and extensive work with clients she has published two books, both of which have received excellent reviews:
'Managing in the Email Office' by Monica Seeley and Gerard Hargreaves, published by Butterworth-Heinemann (ISBN: 0750656980).
'Using the PC to Boost Executive Performance' by Monica Seeley published by Gower Publishing Limited. (ISBN: 0566081105).
Her recent work on gender difference and email etiquette and email management have just been published in:
Gender and Communication at Work edited by Mary Barrett and Marilyn Davidson and published by Ashgate (ISBN: 0754638405).
Copies can be ordered either from Amazon or the publishers.