Showing items tagged with "Reduce email overload" - 4 found.
Here are five top Outlook functions in OL 365 and OL 2013 onwards to improve your email management and help reduce email overload. Outlook 365 (and 2013 onwards) contains a myriad of time saving functions. However these five will enable you to take control of your day rather than have it controlled by the inbox. Hence, they will help you improve your well-being, productivity and performance.
1)   Switch off all new email alerts
Never again be distracted by each and every new email.  Go to File/Options/Mail.  Then untick all the boxes in the Message arrival pane.

If there are key contacts whose emails you do want to see as they arrive, then write a rule that alerts you to just these emails.
2)   Create a task/calendar entry from an email
Don't waste time creating a task or calendar reminder.  Let Outlook do it automatically.  Drag and drop the email from the inbox on either the Task or the Calendar icon. The appropriate box will open to allow you to create either a task or calendar entry.
3)   Rules
After you have triaged your inbox and decided which emails you really need to see in the inbox, use rules to filter out all the less important emails. To create a simple rule, right click on the email, select Rules/Create Rule and complete the Create Rule box by ticking the relevant boxes. For example, to send all emails from Monica Seeley to the Newsletter folder, just tick those two boxes as shown below.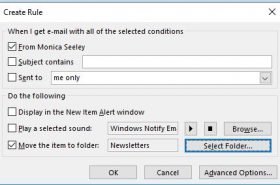 For more complex rules go to Rules/Manage Rules & Alerts (on the Home tab). Click on New Rule. Select the type of rule (from the Step 1 panes). Then complete Stage 2 by clicking on the hyperlinked phrases eg people. Click Next to continue to complete each option for the rule.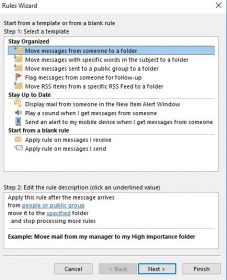 4) Categorise items (email, calendar, tasks)
Use colour to help you spot important emails quickly and sort the inbox more efficiently too. Click on the Categories icon from the Home tab. The initial drop-down list just contains colour names.  To customise the categories, click on All categories (bottom item). Use the Color Categories dialogue box to assign names to the various colour and add colours as required.  For example, tick the Red box and then the Rename button and type the desired name eg Action Today.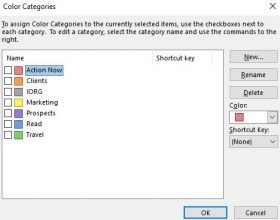 5)   Quick Parts (only available in 2007 and upwards)
How often do you need to write the same words in an email, eg acknowledge a CV, papers for a Board Meeting etc?  Stop searching for the last email and cutting and pasting.  Use Quick Parts to create re-useable templates of text and save time.
Type the text in question in a new email.  Highlight it and click on Insert/Quick Parts/Save Selection to Quick Parts Gallery.  From the drop-down menu pick Save.Give the template a name, then click OK.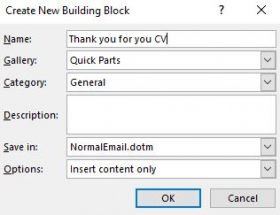 The text is then saved and can be reused in future emails.  To insert the text in a new email, click in the message area and go to Insert/Quick Parts and select the required text.
These are just some of the functions in Outlook 365 and 2013 onwards which will help you save time and reduce email overload.  For more tips and hints like this why not book one of Mesmo Consultancy's Smart Email Management Masterclasses for you and your colleagues.
Alternatively sign up for our monthly Email Management newsletter which provides tips and hints to help you save time dealing with email and reduce email overload.
Tags: email management, Email management to improve productivity, Email management to improve well-being, Outlook tips to save time, Reduce email overload, Take Control of Your Inbox
How many emails do you currently have in your inbox? More than three screen's full? That is too many and might be an indication of email overload.  Your inbox should be your 'work in progress' folder.  It is not just a general dumping ground rather like either the spare room or 'round to it' folder.
A clean inbox is a win-win way to reduce email overload related stress because it is easier to:
Spot important emails before they become urgent.
Keep on top of the incoming emails.
Find emails.
Hence you can save time dealing with your (and the boss's) inbox and therefore improve your performance and well-being.  Here are five tips to help you clean up your inbox ready for the Easter break and subsequently reduce email overload on your return.  They do not form a sequence, rather they are individual tips; you can of course either use them all or just choose which suit you best.
Move out all emails over two weeks old to a separate folder. Start the folder with a full stop and it will sit at the top of the list: eg .Old Emails.
Use the Conversation view to group emails and see threads for those left in the inbox.
Prioritise which emails you really need to see directly in your inbox. Then set up rules to divert all the less important emails to appropriate folders. For Outlook users use the 'Search Folders' to see all unread emails in one go: see diagram.
Highlight emails which do need action either before or after the Easter break.For example add a follow-up flag; drag and drop them on your task-list/calendar, add a category or place them in a specific folder eg 'Action'.
Review the emails you have and see if an alternative to email would be more effective eg What's App; OneNote; old fashioned conversation; SharePoint etc. Never be afraid to change because if you don't you will get what you always have – email overload!
If you are having time off, remember to set an Out of Office message which reduces the risk of email borne cyber crime and improves compliance to to the GDPR.  And when all else fails you could always declare email bankruptcy.
Still need help with email management to reduce email overload?  Call us now to ask about Mesmo Consultancy's Smart Email Management workshops and coaching programmes.
Happy Easter.
Tags: Business Performance, Clean Inbox, Email borne cyber crime, Mesmo Consultancy, out of office message, Reduce email overload, Spring Clean Inbox, well being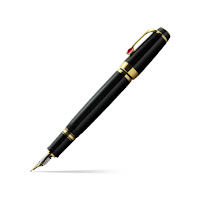 Several companies have now adopted writing as a way to reduce email overload according to a recent article by Emma De Vita in the Financial Times.  One company now uses notices board to post project updates rather than sending endless email chains.
From my own clients one uses whiteboards to post social and ephemeral notices such as 'fire alarm tests', 'celebration cakes for tea' etc.  They have whiteboards placed strategically around the office and messages can vary depending on what specific groups are doing.  One person said that an added benefit was how much you learn about what is going on in other parts of the department.
One business avoids endless email chains by writing their comments on documents and proposals.  Only when all parties have commented does the senior project manager then read the proposal.
Other clients encourage people to rebuff requests to 'send me an email'.  Instead they tell the person making the request to take ownership and write down what is being asked of them.
We are seeing a great resurgence in traditional writing tools such as pen and paper.  What novel ways such as these have you used to help reduce email overload?
Tags: alternatives to email, pen and paper, Reduce email overload
Many, business people receive 100 (or more) messages a day and spend 2 to 3 hours a day on email related activities, consuming 20 to 30% of their business day. Not surprisingly, many complain of suffering from email overload
Email, with its myriad of features, functions, and capabilities, combined with its high volumes and constant interruptions, has become one of the most frequently used yet continually challenging business applications for today's workers to navigate.
So, what is the solution to managing email overload issues?  My research has found that the key strategies to deal with email overload fall into three broad approaches: organizational, technical, and behavioral.
1) Organizational approaches
Organizational approaches to reducing email overload incorporate the use of acceptable use policies as a way to set organization-wide rules for the appropriate, and inappropriate, use of email. These approaches are also referred to as email etiquette or netiquette, and focus on teaching people to use email more appropriately.
These can be employed differently depending upon the organization, ranging from being enforced as formalized policies, communicated as strongly suggested guidelines, or expressed as cultural norms of expected behavior. They establish a common set of values, expectations, and behaviors around the use of email, and work at the macro level, reducing the email overload burden for everyone.
2) Technical approaches
Technical approaches to reducing email overload leverage specific features and functionality in the email system itself as ways to reduce email overload. This approach has traditionally been the primary focus area for most email training programs with the goal on improving an individual's fluency in the email system and thereby allowing people to use email more efficiently.
Research has found that there is often little formalized training on the use of email, as most people are (incorrectly) presumed to already be email proficient. Even those who deem themselves email savvy are often only familiar with a small fraction of their email system's features and capabilities. A technical approach can yield significant improvements in individual email skills, resulting in large reductions in email overload.
For Outlook users, click here to check how savvy you are with your email software.
3) Behavioral approaches
Behavioral approaches to reducing email overload focus on improving the knowledge, actions, and behavior of individuals. This approach incorporates the areas of media competencies and email processing (triage) techniques and focus on teaching people to use email more effectively.
Media competencies include topics such as when email is an appropriate (or inappropriate) form of communication, how to build high-quality email subject lines, and writing structured message bodies. email processing (triage) encompasses focuses on strategies on how to best scan, analyze, and organize your messages. Behavioral approaches, the way you interact with email, are critical to reducing email overload.
Research has found that you must focus on improving skills across all three of these areas (Organizational, Technical, and Behavioral) in order to make the greatest improvements in your email skills and the largest reduction in email overload.
About the Author

Dr. Michael Einstein is a full-time business technology professional for a large multi-national corporation.
His doctoral dissertation was on the intersection of email processing skills, email overload, and technology training. He is very active in email overload research. For more information see his recently launched website which contains a wealth of resources to help others learn to better manage their inboxes and reduce their information and email overload levels.
Tags: Email behaviour, email culture, Michael Einstein, Outlook, Reduce email overload