Pen and paper helps reduce email overload
Tuesday April 17th, 2012, 8:55 am
Can pen and paper help stop email overload and reach inbox zero? Yes. No, I am neither mad nor suffering from the first stages of dementia.  Keep a check today on how many times people ask you to do something (from arrange a meeting to join them for lunch):
by email when they are within a five desk radius of you;
in passing and you say 'put it in an email'.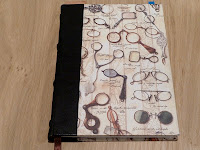 My BomoArt Daybook
Walking around any office, going to a meeting and I see most people with a notebook and pen in addition to all the technical gizmos.  We seem to use the traditional writing tools for doodling (when the meeting is boring) and making our own personal notes but rarely for jotting down what someone has asked us to do.  Why?  One reason is because we want a record so we can play cover my backside.  Many such emails are unnecessary and just drive up the email overload and hence reduce the chance of reaching inbox overload.
Email is just one of a multitude of communications and organisation tools one of which is the traditional notebook.  Picking the right tool for the right purpose is key to saving time dealing with your email.
If you are serious about stopping email overload and reaching the inbox zero status quo, then next time someone asks you to do something, take ownership and make a note in your own day book.  Don't ask them to send you an email.  It smacks of playing politics and laziness.  Here is my beautiful day book (from BomoArt) which goes everywhere with me.
Meanwhile, what else could you do using pen and paper instead of email?
For more time saving tips and hints why not
buy a copy of one of our books
or let us run a
Smart Email Management workshop
for you and your colleagues.
Tags: email management training, email overload, empty inbox, inbox zero, notebook stories