Time Management: top tip for organising external meetings
Wednesday September 4th, 2019, 10:15 am
Here is a little know time management tip for arranging external meetings using Microsoft Outlook. Email part of your calendar to those with whom you are arranging a meeting instead of laboriously typing out a list of dates and times etc.  The email will just show the availability.  Here is how to execute this time management tip using your Microsoft Outlook Calendar.
 From the Calendar File tab pick Email Calendar.2. From the pop-up menu Send Calendar via E-mail, complete the box as required by selecting the Date Range, eg Next 7 Days.  You will see it only shows Free, Busy, Tentative etc.  There is no fear of disclosing what is happening on busy days.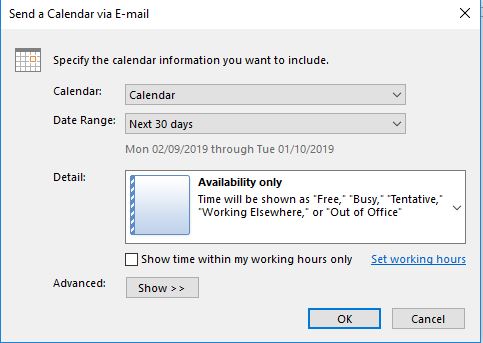 When complete click OK and the selected portion is automatically dropped into the body of  email as show below.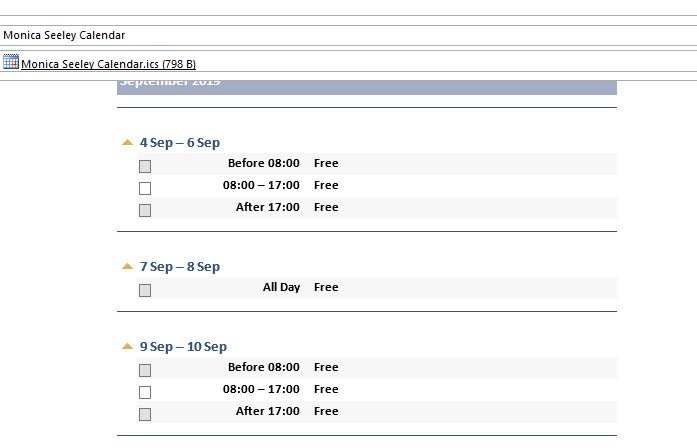 Put all the names in the Bcc box to stop the endless rounds of Reply All emails. Then only you get all the responses and can decide on the best date. Just another tip to save time and reduce email overload as everyone plays email ping-pong back and forth with dates.
If you like this tip, it is just one of many which we cover in our Smart Email Management workshops.  Why not contact us now to book one for you and your colleagues?
For more time saving tips and hints why not
buy a copy of one of our books
or let us run a
Smart Email Management workshop
for you and your colleagues.
Tags: bcc, Meeting management to save time, Outlook calendar management, Reduce email overload, Time management