Showing items tagged with "Save time dealing with email" - 4 found.
Suffering from email overload?  Rules are the way to reduce email overload.  Finding it hard to see the important emails from the less important one, maybe even the dross which you never really wanted in the first place. Rules are the most powerful and effective way to de-clutter you inbox.  Here is how to set a simple and more complex rule in Outlook 365 to filter out all the less important emails and allow you to see only those emails which really need your immediate attention.
1. Simple rules
Right click on the email. Select Create Rule. Then choose either the relevant action and appropriate folder to move the emails. Either an existing one or create a new one.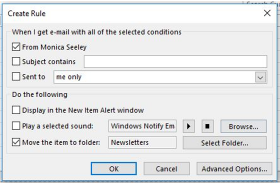 Click on the folder, then OK. From the next box 'Success', click the box marked 'Run this rule..' and click OK.  This will clear out all the existing emails in your inbox which meet the new rule's criteria. A great way to start decluttering end reduce the existing email overload.
This type of simple rule is useful for automatically moving emails out of the inbox to a folder to look at later, eg newsletters and emails from specific organisations/person.
2. Complex rules
Let's suppose you want to highlight emails from a key contact (eg CEO, key client etc.).  Proceed as above, BUT now click the Advance button.  Click the initial action, ie the person or words on which you want the rule to action.  For example from Julie Perinne.  Then click next and tell it what you want to do eg mark all emails from Julie as 'Important'.  Then in the box called Step 2 click on the word 'Importance'.  Now select the level of importance.  Then click OK.  Again click through the Next buttons slowly until the last screen and run the rule and click OK.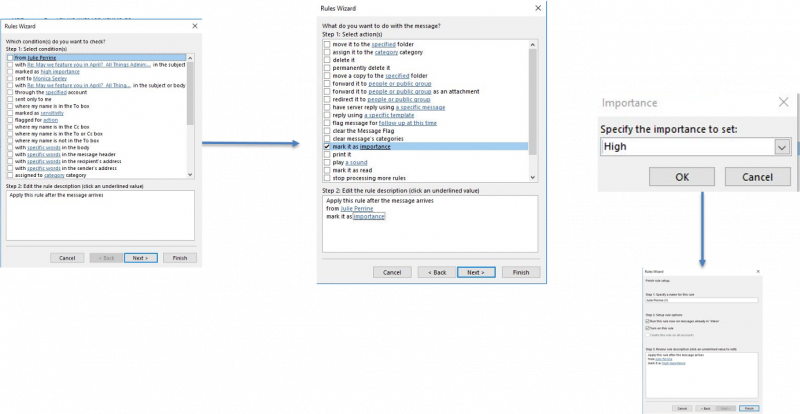 To delete/edit rules go to File/Manage Rules & Alerts and edit/delete rules as appropriate.
3. Viewing all the unread emails in folders
To see all your unread emails in one place use the Search Folders at the bottom of your inbox.  See below.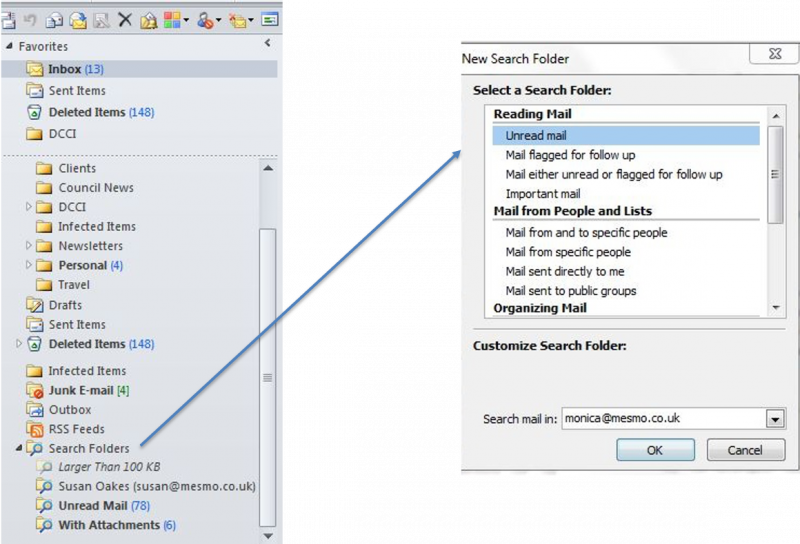 Using the Rules and Search Folders in Outlook 365 (and most other versions) will allow you to reduce email overload and save time dealing with email.  It will also help you manage the risk of missing an important email amongst all the less important emails.  Click here for more tips like this one.
Tags: Outlook 365 Rules, Reduce email overload, Save time dealing with email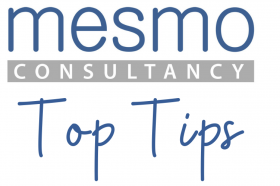 Effective email management –  a new series of videos with top tips on effective email management and etiquette. These will enable you to save time and raise performance.  Each is about 45 second long and focused on one simple action you can take to improve your well-being and mental health by reducing email overload.
Don't forget you can always benchmark your email etiquette.  Click here to start.
To check your your email management click here to see if there is scope to save time.
 Subject Line.  The importance of a good subject-line to enable people to notice your email and respond promptly.
2. The Greeting.  Casual or formal?  What is the best email etiquette for business emails?
3.  The closure.  Casual or formal?  What is the best email etiquette for business emails?
4. Thank you emails.  Should you send them or do they just raise the current email overload factor?  What's the alternative?
5. Calendar management.  How to deal with unexpected meeting invites in order to better manage your time.
6. Think Before Hitting Send. Top tips to save yourself time and improve compliance with GDPR
7. Quiet Email – the effective way to gain the recipient's attention without shouting and using high priority markers etc.
8. Think Five.  Five top tips to improve productivity and save time dealing with email by sending the right message right first time.
Watch this space for more each month.
Tags: Calendar management, Effective email etiquette, Effective email management, email etiquette, Email greetings, Email management to improve well-being, email overload, email sign off, Email thank you, GDPR, Mental Health and Email, Quiet Email, Save time dealing with email, Smart Email Management, Subject-line, Top tips
Mesmo Consultancy is delighted to announce nominations are now being accepted for the 2017 World Email Ping-Pong Challenge. Email ping-pong is a 'game' played by millions of employees every day who send pointless emails back and forth instead of picking up the phone. But we digress – we want to find out who are the world's best email ping pong players.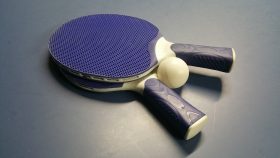 Have you been in an endless round of email exchanges or spotted a ping pong email game between two people which goes nowhere and often spirals out of control. How many emails did it involve and over how many days/weeks did it last? Tell us what is the longest round of email ping pong you have ever played or spotted? Gold, Silver and Bronze medals will be awarded and for the best two responses a copy of either 'Brilliant Email' or 'Taking Control of Your Inbox'.
Please send your nominations either via email or leave your comments on this blog.
Email ping-pong is symptomatic of our addiction to email and poor business email etiquette. Often we forget to use other forms of communication which could be more efficient and solve the problem more quickly, for instance the phone or a face-to-face conversation (live or by video-link).
In January 2017 DMR stats reported that 269 billion emails are sent daily. In 2016 The Huffington Post reported that the average worker spends 6.3 hours a day on their email and The Economist highlighted that processing an email costs the average business just under $1 per email. So ten pointless rounds of email pong-pong means $10 down the sink. Played by ten pairs of employees at least five times a week – your business has now wasted the equivalent of $500 a week. Can you really afford to lose this much profit not to mention time and productivity lost?
Want to bow out of the World Email Ping Pong Challenge to improve performance and reclaim all this lost time and money? Then watch our latest Business Email Etiquette video on how to stop email ping-pong.
Here is a classic email Ping Pong Game in Action
Steve —> Rachel: Here's the file we talked about
Rachel —> Steve: Great, what do you need from me?
Steve —> Rachel: Let me know what you think
Rachel —> Steve: I like it
Steve —>Rachel: Any improvements?
Rachel —> Steve: Perhaps, make the logo bigger, bolder
Steve —> Rachel: Like this?
Rachel —> Steve: No, that's too big
Steve —> Rachel: Like this?
Rachel —> Steve: Yes, that's much better
Steve —> Rachel: OK, anything else?
Rachel —> Steve: No don't think so, but check with Zack in case he has any thoughts.
This email ping pong chain is already 12 messages long, and it will start a new 'set' with Zack…
If you want to save even more time managing email more efficiently why not call us now about our Brilliant Email Management workshops or buy yourself a copy of either Brilliant Email or Taking Control of Your Inbox.
Tags: Brilliant Email, business email etiquette, DMR Stats, Email ping-pong, Huffington Post, Mesmo Consultancy, Save time dealing with email, Taking Control of Your Inbox, The Economist
Fed up with endless rounds of email ping-pong going no where? Watch video number four of Mesmo Consultancy's new series on Business Email Management and Etiquette: top tips to stop playing email ping-pong.
First, these top tips will help you improve business and personal performance and productivity.  Second, stopping playing email ping-pong will enable you to reduce email overload and improve well-being.
Tags: business email etiquette, Business email management, email overload, Email ping-pong, Mesmo Consultancy, Save time dealing with email