Email Addiction III – who logged in on Christmas Day
Thursday February 3rd, 2011, 9:30 am
Email Addiction. Are we becoming email junkies? Did you log in on Christmas Day?  Judging by the results some of us are real email junkies with a severe case of email addiction.  My thanks to all 722 people who participated in the poll.
Forty five percent (45%) confessed to checking their email.   Men checked more often than women see below.   However, more women checked their email once and both sexes were equal when it came to checking twice. Does anyone have any thoughts on this one?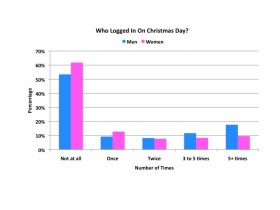 Reason for checking in ranged from 'self-confessed email junkie' to feeling one must always be available.  Of those who did not log in, most said it was time to be with the family and they were too busy cooking and entertaining.
The results leave me wondering just how much we have come to let email dominate our lives and how many people suffer with acute email addiction.
For more time saving tips and hints why not
buy a copy of one of our books
or let us run a
Smart Email Management workshop
for you and your colleagues.
Tags: email addiction, email management