Mental Awareness Week – Reduce Email Overload
Monday May 8th, 2017, 7:28 am
Business email overload remains one of the top ten causes of stress.  It saps our performance and well-being.  As part of Mental Health Awareness Week we are posting a series of daily tips and strategies to help you clean out your inbox and reduce the email related stress.  We thank the Mental Health Foundation for their support.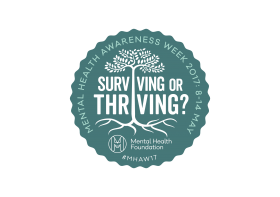 Day 1 – Why Bother?
Time is the scarcest resource and unless it is managed, nothing else can be managed. Peter Drucker
Why bother to take time to clean out your inbox?  Primarily, because email overload is expensive.
Email overload means our potential to be productive and creative is significantly reduced. The starting point for Cleaning Out Your Inbox is to assess just how much time you can save by cleaning out your inbox this week.
Step 1 – Check the Cost of Email Overload to yourself and your business
Use our Cost of Email Misuse Calculator and dare to share the results – see below.
Step 2 – Weigh in
Check how many emails are in your inbox.
What is the date of the oldest.
How many are unread.
Step 3 – Move all those emails over 10 days old out of your inbox into a folder.
They are long since dead and if they are not you can be sure the sender will re-contact you.
Step 4 – Set yourself SMART goals for the week and plan how they will be achieved.
For example, do you want to find ways to spend less time dealing with email and more on revenue generating tasks, reduce the volume of emails you receive, find ways to stop people expecting an instant reply etc.
If these tips are helpful why not cajole other colleagues to join you?
For more time saving tips and hints why not
buy a copy of one of our books
or let us run a
Smart Email Management workshop
for you and your colleagues.
Tags: Business email overload, Clean Inbox, cost of email overload, email stress, Mental Health Awareness Week, Mental Health Foundation, well being