Desktop Olympics – Guest Blog from BourneFit
Monday February 3rd, 2014, 9:42 pm
One of the major side effects of email overload (and email addiction) is that we sit for hours at our desk which then impinges on our well-being.  In this month's guest blog from Simon Lesser of BourneFit, Simon looks at the impact on our well-being and gives us some top tips to how to improve this and our work-life balance.
Working is a necessity, particularly working behind a computer for many of us. This may be a large part of the day often extending upwards of 6-8 hours allowing for the occasional tea and biscuit. Here are some top tips on improving posture daily and hence reducing chance of RSI, neck pain and round back posture.
There are a number of simple thing we can do but initially let's look at what can happen…….
Shocking, and he's supposed to be a fitness professional !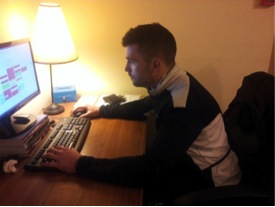 We can notice a number of things.
Core – the abdominals are collapsed, all the weight is forwards forcing the ribs and the chest forward.
Shoulders/arms – the keyboard is way forward and the arms/shoulders follow.
Neck – possibly the worse part, the neck has to extend back in order to view the screen.
So let's see what simple improvements can be made……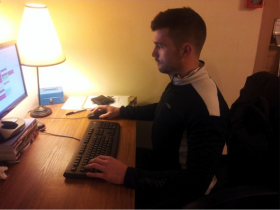 Much better!
Core – sitting or perching lightly, further forward on the chair (or even sitting on an exercise ball) the core is slightly engaged.  The trunk is more upright.
Shoulders/arms – the trick here is to have the shoulder in the back one third of the body.  In this case we also move the keyboard closer to encourage this.
Neck – crown lifting up towards the ceiling.  Having the screen raised can often help.
Maintaining your well-being (in-spite of email overload)
Practise – awareness is the key.  Have an awareness of where the body is all the way down to what the feet are doing on the floor.  Have a proper ergonomic assessment if necessary.
Driving – the second biggest postural problem.  Much of the above can be applied to driving particularly where the shoulders are.  Again, awareness is the key.
Outside work – see a fitness professional for some postural exercises, even taking cardio exercise regularly can massively help posture.  Classes like yoga and pilates are fantastic even once a week.
About Simon Lesser and BourneFit
Simon Lesser is founder and owner of BourneFit a Bournemouth based  fitness and sport therapy business.  For more information click visit the BourneFit website.  There you will also information of healthy eating and other ways to improve your well-being and maintain a good work-life balance.
For more time saving tips and hints why not
buy a copy of one of our books
or let us run a
Smart Email Management workshop
for you and your colleagues.
Tags: BourneFit, email addiction, email overload, Simon Lesser, well being