Showing items tagged with "alternatives to email" - 4 found.
The topic of well-being and email overload has featured several times over the past month. Some are arguing for old fashioned mobile phones which act solely as a phone. Whether or not this will solve the problems of email overload and digital addiction is debatable. Perhaps it is more about educating ourselves to use our smart devices smartly.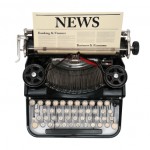 Then there is the thorny questions of whether or not it is wise to include emojis (eg smiley faces) in emails and how long before social media takes over from email. Last but by no means least 90% of us are scammed by email every month. Read on for our top five articles of note during August.
1.Taking control of your inbox in a healthy way.
Julia Schmidt PA to the Chief Executive of Basfarm a Norwegian IT service provider and undertaking a study of well-being in the workplace. As part of this she interviewed Monica. Click here for the interview and her top tips on the subject.
2. Has the smart phone destroyed a generation?
The average person checks their smart phone every six minutes according to Nancy Colier. Recent research from the USA (Professor Jean Twenge) argues that the smartphone is destroying a complete generation. They are more comfortable with technology than people than any previous generation, many are on the brink of a nervous break down.
A must read for anyone with an interest in the impact of smart phones on Millenials.
What's your take?
3.Email still dominates work and personal communications. So you thought email might disappear soon? Think again according to the latest research from Adobe. Whilst face-to-face communications are starting to rise, emails continues to dominate with over social media. Their survey found that people are spending slightly less time checking email than a year ago. Interesting 62% prefer to check their emails on a desktop. Only half ever achieve inbox-zero and as we've discussed before it is questionable if this a productive exercise. Meanwhile 43% still check emails in the bathroom. And this from a company with a vested interest in social media! Makes me think we are still very much addicted to our smartphones and email and that there are few real business alternatives to email.
4.The dark side of a smiley. A new global study reveals that far from creating a warm friendly email, an emoji (emoticon) make you look less competent. We have been against their inclusion for years so this just back-up our previous opinion and findings. A thought worth keeping in mind for those who run induction courses for new graduate joiners. Keep all the emoji (smiley faces etc) for social emails only.
5.Nine in ten hit by email scams every month. Considering how much is written about reducing the risk over identity theft and cyber crime this is a very demoralising figure. Does no one read and take note? PayPal, Banks and HMRC are the top three bogus emails sent and it is often younger people who are worst hit. What does this say about their addiction to smartphone? Click here for our top tips on avoiding such scams.
Is email addiction, email overload, email etiquette effecting the performance and well-being of your workforce? Call or email us now to discuss how our email best practice workshops and consultancy service can help you.
Tags: alternatives to email, Business email management, cyber crime, Email Scams, Jean Twenge, Julia Schmidt, Milleniels, Take Control of Your Inbox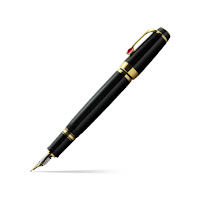 Several companies have now adopted writing as a way to reduce email overload according to a recent article by Emma De Vita in the Financial Times.  One company now uses notices board to post project updates rather than sending endless email chains.
From my own clients one uses whiteboards to post social and ephemeral notices such as 'fire alarm tests', 'celebration cakes for tea' etc.  They have whiteboards placed strategically around the office and messages can vary depending on what specific groups are doing.  One person said that an added benefit was how much you learn about what is going on in other parts of the department.
One business avoids endless email chains by writing their comments on documents and proposals.  Only when all parties have commented does the senior project manager then read the proposal.
Other clients encourage people to rebuff requests to 'send me an email'.  Instead they tell the person making the request to take ownership and write down what is being asked of them.
We are seeing a great resurgence in traditional writing tools such as pen and paper.  What novel ways such as these have you used to help reduce email overload?
Tags: alternatives to email, pen and paper, Reduce email overload
Last week a client complained at being emailed by another colleague who sat just five desk away.  How often does this happen to you? We have a love hate relationship with email: its fast and easy but not always the best communications channel.  An over dependence on email at the expense of other channels is one of the primary causes of email overload.  Yet how many of us make the effort to think outside the inbox before hitting send.
Very few judging by many of my client's experiences.  However, some leading organisations are being innovative and for example banning all internal emails and having no email days in an effort to both reduce email overload and improve communications.  These range from high-tech companies to housing associations and architects.
My behaviour will influence your behaviour here are three ways to encourage others to think outside the inbox.
1.     Provide an incentive for them to talk to you.
2.     Use an alternative tool to provide information which people really need, for example the form for requesting leave, a sales update.
3.     Implement email free times and office zones.
To reduce the email dependency (and even email addiction) above all else make sure you create the role model: next time you are about to hit send, get up and walk and talk to the person. Try responding to external email with a phone call.  You might be pleasantly surprised at the extra information you pick up to help progress that important sale.
Tags: alternatives to email, email overload, No Email Day, No internal email, Walk before emailing
Can Instant Messaging (IM)  help to significantly reduce email overload?  Over the last few months I've been working remotely with a client and using their IM  in earnest (via Microsoft Communicator).  I was able to catch up with colleagues on business and social matters quickly and without ending up with an inbox full of redundant email chains.
At one point urgent help was needed from a colleague whose status was 'busy'.  A quick message and back came the necessary data with a note that all the other matters  would need to wait until our planned conference call later that week.  Still the vital data was supplied and work could progress.
Would the same have happened with email?  No, as he is a strict disciple of the 'stay focused' management school.  His new email alerts are off and he only checks his inbox every couple of hour or so.  He works on the basis that if it is urgent someone will either call or send him an IM.
Email has been around for just over 30 years and is now seen by many as the default communications channel.  But is it really that useful for all electronic communications?  Mimecast found only about 30% of emails received are read.  Meanwhile the Grossman Group found that middle managers are overwhelmed by email and often spend long hours outside work catching up with their email.  But what are all these emails they feel they must read or at least spend time deleting)?  We and Grossman found that about 25 to 30% are indeed trivial often either chains (ongoing conversations) or about subjects that are no longer relevant (eg fire alarm is being tested at 11.00am).
Email is but one of a  range of communications channels (from face-to-face meetings to text messaging).  Is it time to start thinking through how we can use alternatives to email firstly to communicate more efficiently and hence secondly reduce the email overload which is crippling many people and their businesses?  Have you checked recently how much time you and your business are loosing through unnecessary (internal junk) email?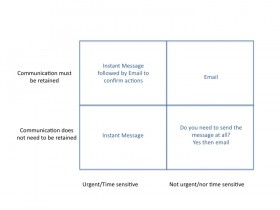 For me IM is hugely undervalued as a communications tools.  If I were CEO of an organisation (no matter what size) I would not ban email internally as some have done but would implement an IM policy.
All message which do not need to be retained and are time sensitive should be sent by IM and not email as per this matrix.
Are you using any form of  social media and IM to reduce the volume of email traffic and improve communications? Click here to participate in our new survey.
Tags: alternatives to email, email chains, email management, email overload, IM, Mesmo Consultancy