Showing items tagged with "Pukka Pads" - 2 found.
I advocate that using a conventional notebook is one way to reduce business email overload. What will you do with an extra 45 minutes a day every working day? That's what I asked participants at my PA-Life Training session this week. The top three responses were:
Take a lunch break.
Sleep more.
Have a walk.
Pukka Pads, one of my sponsors, provided some executive pocket notebooks as prizes for the day. One went to the 'walk' response. Why?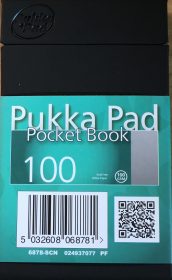 Walking improves our well-being and fitness.
Conventional notebooks help reduce business email overload. For example, when asked to do something, take ownership and remember (or make a note of the request) rather than asking the other person to email you.
Pen and paper helps improve our powers of observation and creativity. A friend taught me always to look up at the tops of buildings to see interesting architectural features. Yet how many of us walk with our heads in a screen and see only the pavement? Conventional notebooks let you observe without worrying about battery-life and being distracted by new email notifications etc.
The digital invasion was predicted to kill off the stationary business.  However, look around a meeting or the office generally. It never ceases to amaze me the high percentage of business people who use a pen and notebook instead of a digital device. Recent statistics revealed that paperback book sales are rising instead of declining.  Judging by the number of notebooks and pens on office desks and given away as marketing gizmos I suspect the same is happening to stationary. Let's hope notebooks and pens continue to help reduce the rising volume of emails too.
What do you prefer to use when either walking or in a meeting – pen and notebook or electronic device?
Tags: Business email overload, Conventional notebooks, PA Life Training Day, Pen and Notebook, Pukka Pads, Stationary business, wellbeing
To use an e-notebook or conventional notebook that is the question facing business and educational institutes. Electronic notebooks such as OneNote have many advantages and especially for keeping track of useful web-based material (eg links and videos). Indeed I love OneNote for storing and sharing such content. Having my iPad in a meeting means files can be instantly accessed. Meeting notes produced as the meeting proceeds and shared instantly at the close.
However, they also have some significant drawbacks. Not least the temptation to multi-task. You pretend you are listening and taking notes but in reality you are checking emails and social media sites. Not very productive use of anyone's time and especially yours. Indeed some university lecturers have banned the use of such devices in an attempt to encourage more conversations and networking.
Conventional notebooks offer many different benefits. Taking notes helps improve memory and concentration. You could argue that this is device independent. But in my case, writing and mind mapping helps clarify my thinking. Perhaps because I have to concentrate that bit more with no spell-checker. Also there are no distractions (from new emails and social media alerts) which proves to be a major drain on productivity.
Drawing and colouring can on the one hand help us relax and on the other rev up our creative juices. Useful in a meeting/lecture where either you want to tune out as it's boring or the reverse because you have an idea to contribute and need to crystallise it before speaking.  Though taking a colouring book into a meeting might look just as odd as peeking at social media.
One other drawback of a note book is that they can look boring and samey. If you are not careful you might end up walking off with the wrong notebook and leaving your most personal secrets in someone else's hands. It has happened to me!
The other day I wandered into Pukka Pads who sponsored my latest book 'Taking Control of Your Inbox' to collect some paper.   There in the design room was the answer to my prayers – a  'Colouring Project Book'. It has the most amazing Doodle Bar on each page which you can colour as you go along and hence improve your creativity and concentration. If like me you always have coloured pens for note-taking no one will know what you are doing.
The front can be coloured so you know it's yours. Opening a personalised notebook is a quick way to be noticed and stand out from the crowd. Until now such stationary was very expensive and beyond the means of most mere mortals.
For me using a conventional notebook always helps improve my concentration, creativity and gives me confidence. In a meeting and when I walk around client's offices I can make notes whilst maintaining eye contact and listening with no worries about finding the right app, being distracted and checking on battery life.
And here is a mega anti-cyber crime bonus: in a public place if you want to make notes, conventional notebook are more secure because the prying eye of the cyber criminal cannot check your writing strokes as they can your key strokes.
What do you prefer a conventional paper notebook or electronic one?
Tags: Colouring Books, Notebook, OneNote, Pen and Notebook, performance, Pukka Pads, Taking Control of Your Inbox