Showing items tagged with "Unsubscribe" - 1 found.
We all know that email overload is the biggest drain on our ability to perform well in both social and work situations.  'Unsubscribe' is an easy to ready and witty new book from Jocelyn K. Glie.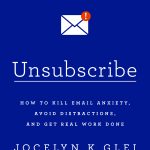 Whilst it doesn't tell us anything we did not already know, it presents the information in an easy to read format.  Also it has some very good cartoons and graphics to exemplify the points and especially in relation to how easily we can waste our day just dealing with our inbox.  Glie provides advice on how to:
Have an email detox and reduce your email addiction.
Focus and not be distracted.
Prioritise which emails to deal with and when.
Gain the recipient's attention.
Generate template emails to save yourself time.
For anyone serious about conquering email overload and re-claim their lives from the dreaded inbox this makes a useful addition to the existing books on time and email management.
Tags: email addiction, Jocelyn K. Glie, Unsubscribe