Showing items tagged with "Reduce holiday email overload" - 1 found.
Dealing with the holiday email overload is one of the most stressful aspects of being on vacation according to a survey conducted by Mesmo Consultancy.  This is not surprising when you realise that most business people (and especially executives and PAs) feel that at least 50% of the emails they receive are unnecessary.  One survey recently put it as high as 75%.  Little wonder dealing with the holiday back log can seem quite daunting.
It does not have to be that way.  For those just back from leave and who did not either adopt Mesmo Consultancy's email detox  plan, or take David Grossman's (email free vacation pledge) here is a tried and trusted five point plan to reduce the holiday email backlog and quickly reach inbox zero.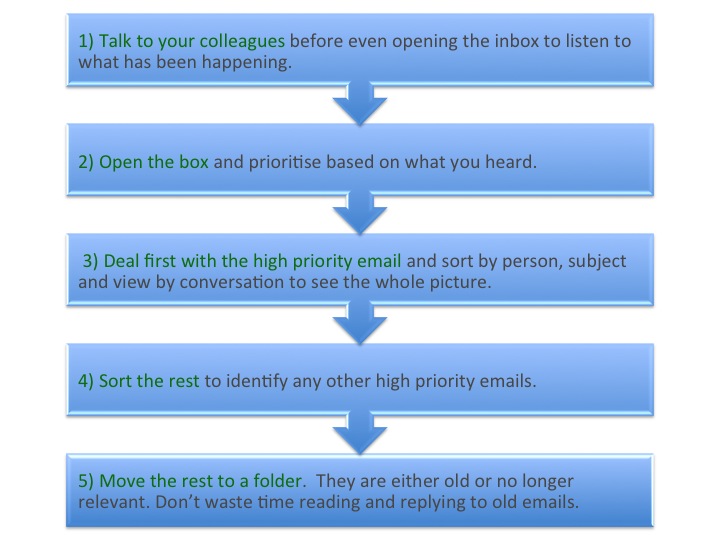 Spending the first hour talking to your colleagues will help you discover far more rapidly what is high priority and needs your attention rather than trawling unprepared through your inbox.
When you tackle the inbox set aside a specific block of time (eg 3 hours).  Group your emails by person, subject, date etc. Use the conversation view (threads) to see the whole picture before replying too quickly.  You may even feel you want to reply only to the emails sent to you rather than where you are Cc'd.
As you open each email, handle it once and once only.  Avoid scanning emails and then having to go back as this wastes time. Action each selected email as you read it using the four Ds principle; deal, delete, delegate or defer action.  In the latter case flag/mark it for attention and tell the sender when they can expect a reply.
Still too much email, then declare email bankruptcy.  You can be very sure that if an email was that important the sender will soon re-send it once they realise you have not responded.
What ways have you found useful to have a clean inbox and reach inbox zero after being on vacation?
Tags: Clean Inbox, David Grossman, Email Bankruptcy, Email detox, inbox zero, Mesmo Consultancy, Reduce holiday email overload, Vacation email management, Vacation email stress