Showing items tagged with "Radicati Group" - 2 found.
After writing about business email overload for the past decade, it still amazes me to hear executives complain about receiving over 70 emails a day but still having done nothing to identify why and what can be done to reduce email overload.   This includes the whole spectrum of employees from CEOs to PAs.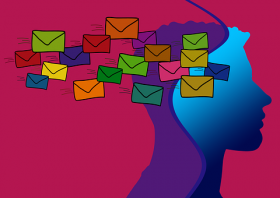 Should I be surprised? After all many have suggested that email is nearing the end of its life and will be overtaken by collaborative tools and social media.  Yet the data from Radicati suggests otherwise with email volumes set to rise by 4% in 2019.
Business email overload is generally a symptom of a wider personal, team or organisational failing.  For example, lack of ability to focus on the task in hand, prioritise, insufficient opportunities to talk to one's boss so instead we email, a need to cover one's backside, no clear e-communications guidelines as to what to use when and so it goes on.
These are some of the more common underlying causes of business email overload which I have observed over the last decade. There are several easy ways to reduce the time spent dealing with unnecessary emails and these include:
Identify who are the key culprits filling your inbox and why they are doing so.
Prioritise which emails your really need to see and when.
Learn to use the email software to help not hinder you.
Recognise what is the organisational culture and it's effect on email traffic.
Think outside the inbox.
As I take over the Social Media Chair for IORG for November (from my colleague Alfonso Aranda Arias), these are some of the issues I will address in a series of Blogs and Tweets.
Tags: Business email overload, email overload, IORG, Radicati Group
Is email yesterday's technology and will email overload soon be a thing of the past?  Maybe for Generation K – teenagers.  However, four recent studies on email overload and email traffic suggest that this is definitely not the case see below.
1. Email alert: full inboxes leave staff exhausted. Professor Cary Cooper pronounced that email is sapping the life out of the British workforce. It is one reason why British productivity is the lowest in the G7 group.  Germany and France are taking action to reduce the email overload malaise, but few UK based companies are doing anything. Sir Cary says 'companies need to take drastic action'.

2.  Here are some of the findings from a fascinating new study of the email behaviour of over 2 million users by a group of researchers at Yahoo and the University of Southern California.
As the volume of emails received goes up, so we respond to fewer and fewer and in some cases as few as 5%.
Emails sent early in the day are more likely to be replied to than those sent later in the day.
Response times range from 13 minutes for Generations Z and Millennials and about 47 minutes for Generations X and Y.
Replies get shorter as the conversation goes on and the volume of emails increases.
Replies to emails sent over the weekend or late at night are likely to be shorter than those sent during the working day.
2.  The overall volume of emails sent and received is predicted to grow by 3% year on year between 2015 and 2019 according to the Radicati Groups latest email statistics report. This may be a small increase but nonetheless it is still up rather than down.
3.   Pointless emails are common.  A study focused on British email users  (by Sennheiser) found that of 2,000 business users one third felt there was always someone in their team who sent pointless emails (eg the photo copier is broken) when an alternative more effective method could be used. 38% confessed to sending an email which started an email war and 25% said they used email instead of talking because they were emailing about a person sitting close by!
Even if you only receive half the number of emails identified in these studies that is 50 per day and 10,000+ per year.  If you are a manger the volume will be higher and the email overload more pronounced.
There are important lessons to be drawn from these studies, not least about email etiquette, the risk of missing important emails as email traffic increases and the impact of email overload on business and personal productivity and finding key emails when needed to support your reason for actions taken.
Simply banning email is not a solution as the Grossman Group pointed out.  The solution is to change the email culture and enable people to use email more responsibility.  Know when to stop an email chain and talk, no reply is required, etc.
These are challenges which Mesmo Consultancy regularly addresses in its email management training webinars, workshops and one-to-one coaching.  If these are issues you face then why not call us now to hear how we have helped other clients like you?
Tags: Cary Cooper, email etiquette, email management training, email overload, Generation K, Generation X, Generation Y, Mesmo Consultancy, Millenials, Radicati Group, Sennheiser, The Grossman Group, University of Southern California, Yahoo