Showing items tagged with "email mistakes" - 1 found.
Experience is simply the name we give to our mistakes.  Oscar Wilde
Over the last few weeks running email management and email etiquette workshops, many of you have shared some classic faux pas.  The spell checker is great for those of us who cannot spell but it can lead to some real howlers if you don't watch what is happening.  Here are a few from recent Brilliant Email management training sessions:
'Hell' was the email greeting instead of 'Hello'.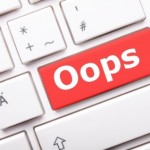 The Board were asked to line up their 'dicks' instead of their ducks' ahead of a board meeting.
Visitors were asked what size  'willie' would they like rather than 'wellington' boots.
The IT department apologised in advance of weekend maintenance for the 'incontinence' rather than 'inconvenience'.
The moral of these email faux pas is not only to think before hitting send, but watch carefully as you spell check your email.  Paying attention, pays dividends when it comes to email etiquette and preserving your image – both your own and the company's.
Dare to share email mistakes like these either that have been sent to you or you have sent to others?  Copy of 'Brilliant Email' for the best one.
Tags: email etiquette, email howlers, email management training, email mistakes, Oops