Does spending too long dealing with email affect our well-being?
Wednesday February 13th, 2019, 8:53 pm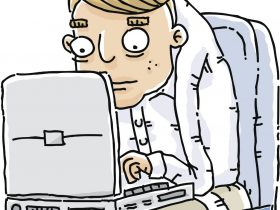 Studies over the past decade, link the rise in musculoskeletal disease to the increased time we spend working at our computers. In 2013 it was estimated that in the UK businesses lost about 30 million days through musculoskeletal related illness such as chronic back, lower limb, wrist and hand problems.
Improve your performance by keeping your whole body energised
Here are ten top tips drawn from talking to a range of medical and related experts (such as physiotherapists, orthopaedic specialists and ophthalmic consultants) to keep you at peek performance and ultimately save time whilst dealing with email (and indeed any technology related task).  Click here to read more.
This article first appeared in Executive Secretary Magazine, a global training publication and must read for any administrative professional. You can get a 30% discount on an individual subscription when you subscribe through us. Email subscriptions@executivesecretary.com and tell them we sent you.
For more time saving tips and hints why not
buy a copy of one of our books
or let us run a
Smart Email Management workshop
for you and your colleagues.
Tags: Business email overload, Business Performance, Musculoskeletal disease, well being