Clean Out Your Inbox Week – round up and the future for email overload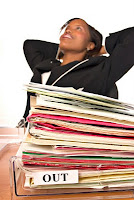 Empty Inbox
Thanks to everyone who joined 'Clean Out Your Inbox Week' last week.   Did it help you reduce the email overload factor?  Has your email etiquette improved?  I hope the answer to both questions is a resounding yes and that as a result you now have your inbox well under control rather than having it control you and your time.
As noted in earlier blogs, there were many worthy prize winners working towards an empty inbox.  These included the person who:
Had over 2,200 emails in their inbox on Day One.
Received a 9MB attachment from an internal colleague.
Set themselves the goal of reducing their inbox from 493MB to 350MB (well under the 500MB limit).
Joined but was overwhelmed by a crisis and had to give up.
All prize winners should all be in receipt of your personal copy of 'Brilliant Email.' If you were not a prize winner, 'Brilliant Email' can be purchased from all on-line book sellers – Amazon gives the best price.
Where to from here?
Now the challenge is how to keep your inbox at zero.  This means reducing the email overload and encouraging others to be better behaved with their email and their email etiquette.   If either you or your colleagues would benefit from more help we would be pleased to book you onto one our Brilliant Email master classes which are available as public events or in-company sessions. For more information contact us either by email or phone on + 44 (0)1202 43 43 40.
We are offering a special 15% discount on all bookings made in February by participants of Clean Out Your Inbox Week.
Once again your support was very much appreciated and hopefully you found the week's activities have helped you create extra time in your day.
Tags: clean out your inbox week, email best practice, email etiquette, email overload