Clean Out Your Inbox Week 2012 – Day 3 Attachments
Attachments can damage your email health!  Reduce them to stay within mailbox limits
This is day three on Clean Out Your Inbox Week.  Are you progressing towards an empty inbox? Today's focus on managing your email is to develop the habit of saving attachments outside your inbox and into the right folder on your main server/hard disc (eg client, project etc).  Managing your attachments properly is another way to get your inbox to zero and reduce the email overload.
Ever been locked out of your inbox?  Today's focus is on attachments – the pariahs of inbox space.  If I had a penny for everyone who tells me their inbox is over the limit I'd be rich. Keeping too many attachments in your inbox means you not only clog up your own server but your organisation's system.   Also there is nothing more stressful than needing to send an email only to find you are locked out of your system through being overweight!
Don't forget #Emptyinbox Twitter Chat at 6.00 pm GMT (1.00 pm EST)
Tonight is about  managing and influencing the email behaviour of those around you so their poor email bevahiour doesn't effect your productivity.   Marsha Egan and I will provide you with valuable tips on how to keep messages from ever arriving in your inbox.  To join us go to Tweet Chat and type in the hash tag

#emptyinboxchat.
Meanwhile here is today's medicine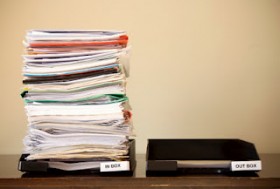 1)  Check you have not left too much dross from the last two days
If needs be set aside time to continue to manage your email and do the inbox housekeeping and cleaning out.
2)  Find those large attachments
Sort on size. For Outlook users use Mailbox Cleanup or Search Folders.
3) Save the attachments outside Outlook
Save all attachments

to the relevant folder outside Outlook and on your file server/hard disc. Then remove them from the email. Make sure you do the same with your sent items too.
3)  Share how you are doing
What is the biggest attachment you have in your inbox?  After three days what is the size of your inbox now?  How many items are in it? Are you still suffering from email overload or are you heading towards an empty inbox through good email management?
+ Post a comment on this blog
+Tweet me ( eg #emptyinbox mine had 4000 emails & is now its only 100. Biggest attachment was 10Mb)
Tell us how you are doing.  There are prizes today for the person:
– who is making the greatest saving
– received the largest attachment and if you are daring enough tell me the person who sent it!
Again during the day there will be more tips on

Twitter

.
Tags: clean out your inbox week, email archiving, email overload, empty inbox, inbox zero