Clean Out Your Inbox Week 2012 – Day 1 Weigh In
Welcome to day one of the 5th International Clean Out Your Inbox Week which we are running with America's leading email management expert Marsh Egan of Inbox Detox fame.  We have been ovewhelmed by the number of people who signed up in order to combat email overload in 2012.   Here's to many empty inbox
by the end of the week.
Monday Day 1 – Weigh in and

start your treatment with

some Smart Goals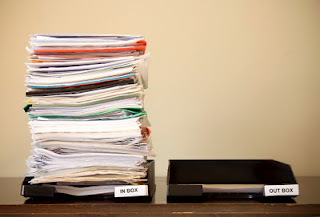 1. Check how many email are in your inbox.  For most email software the number is shown on the bottom left (eg 5,000 items). 
2. Look at the date of the oldest.
3. Count or estimate how many are unread.
4. Be daring and share the results by one of the following.
+ Email me 
+ Post a comment on this blog
+ Tweet the results using the #emptyinbox (eg My inbox has 5,000 emails #emptyinbox)
Step 2 – Check the Cost of Email Overload to yourself and your business 
Count how many emails you receive today and of those how many your really need.  Use our

Cost of Email Misuse Calculator

and dare to share the results as above.
Step 3 – Set yourself SMART goals for the week and plan how they will be achieved
Set some SMART goals for how you plan to manage the email overload more effectively during the week.  What do you want form the week (eg reduce the volume of uneccessary emails, keep within mailbox limits etc).

Share your goals and plans (see above).  There are prizes for the best set of goals and plan to achieve them (copy of 'Brilliant Email').
  Email them to me:  Tweet them using #emptyinbox: post them as a comment on this blog..
Step 4 – Start to clear out some of the rubbish
Start to managing the email overload now.
Sort by subject and/or from and delete all the duplicate chains.

Sort by date and move out all emails older than six months to a folder to sort later.
Step 5 – Join us both on Twitter for tips and share experiences using the #emptyinboxchat
Join me and Marsha Egan for Twitter Chat drop in consultancy at 6.00 pm GMT (1.00 pm EST).  This one focuses on
'

what are the best tools and tricks to empty your inbox and to keep it empty

'.
Go to http://tweetchat.com/ and type in the 'hashtag' emptyinboxchat.  The only rules are to observe the normal rules of social media posting – no abuse and profanities etc.  Preface each question with the letter Q (and its number).  Start Tweeting – post your questions and comments and Marsha and I will endeavour to help you. (If you don't have a Twitter account you will have to sign up.)
Tags: clean out your inbox week, email overload, empty inbox, inbox zero