Showing items posted by Dr Monica Seeley - 321 found.
It takes leadership to make people do brave things. But does it take leadership to reduce email overload? Motivating them to take risks, to stand up to formidable odds, to storm an enemy fortification, to jump out of an airplane – that is where a leader can have an impact for sure. By contrast, it hardly takes leadership to make a person do something that is neither brave nor difficult, and is in the person's selfish interest: nobody requires a leader to lead them to eat strawberry ice cream, or to enjoy a weekend with their children, or to take a pleasant nap in the warm afternoon sun. Why would they? It's all upside, after all – what's not to like?!
So here is a bizarre exception, a situation where a great deal of leadership is necessary to make people do what is inarguably in their selfish interest. When it comes to email overload in an organization, leadership is practically a necessary condition for solving the problem.
The problem is ubiquitous and widely recognized: employees and managers in every organization on the planet suffer from a horrible overdose of incoming emails, text messages, WhatsApp alerts, Facebook updates, and so on ad nauseam. The outcomes are dire indeed, as this problem decimates people's productivity, quality of work, creativity, effectiveness and quality of life. Everyone complains about it… yet very few seem able to do something serious to eliminate the problem on their own.
Not that it's all that difficult: after all, email overload is the result of a frenzy of activity that is in large part unnecessary and useless. Much of the email inundating people's inboxes is generated by their coworkers (and vice versa) for no good reason, and it would be in everyone's interest to simply send less of it, restoring the tool to its original purpose from the 1980s: send important, useful messages required to perform the job at hand. It would also be in everyone's interest to calm down and stop reacting to every incoming message alert as though it were a fire alarm.
And yet nobody sends less, nobody calms down, nobody cuts back. Not on their own they don't.
The reasons for this are deep, and have to do with undercurrents of the organizational culture that involve mistrust, missing norms, over-competitiveness, and so on. Put simply, it's a prisoner's dilemma: if I send less email to my coworkers they will certainly benefit, but will I? What if they keep sending out more mail – will they get noticed and rewarded, while my altruism condemns me to obscurity?
And this is why in this domain, leadership is crucial. Consider the prisoner's dilemma again: the only way to make people cooperate in this game is by changing the payoff table. If cooperation – sending less email – is rewarded, then people will send less of it. If sending silly pictures of cats to a large distribution list will get you a reprimand in your annual performance review, you will find better use for your time, and your recipients'. But only the group's manager, who sits in the hierarchy above all the senders, can effect such a change in payoffs. Employees are very finely attuned to sense their boss's desires, and if the boss makes the switch and truly believes in an email reduction program, they will react instantly.
Furthermore, the higher that boss in the organization, the wider the scope of his or her impact. A department manager can affect the mailing behavior within the department, but other departments will continue unaffected, impacting the first manager's employees too. For a complete improvement, the general manger or CEO must be on board; that affects everybody inside the company. This is why the late W. Edwards Deming, the originator of Total Quality Management, used to refuse to consult at a corporation unless the CEO invited him in person; he knew that the  culture change he was promoting would be certain to fail without top level leadership.
Once we accept that email overload is a cultural problem, it follows that you want to have senior management sponsorship for the solution program. You can still do a lot without it – teaching people how to process their inbox more efficiently, for one thing – but for a true transformation you want to recruit managers as high up as you can. Not an easy task, but well worth the effort!
Nathan Zeldes is a globally recognized thought leader in the search for improved knowledge worker productivity. After a 26 year career as a manager and principal engineer at Intel Corporation, he now helps organizations solve core problems at the intersection of information technology and human behavior.
Tags: email culture, Leadership and email overload, Reducing business email overload
Badly managed email is the "number one drain" on many businesses' productivity, it has been claimed.
Despite the rise of other ways to send messages, email traffic is predicted to grow by four per cent a year worldwide and 296 billion are sent each day. An inbox declutter is one sure fire way to improve your performance, well being and mental health.  Click here for more.
This article first appeared in the Bournemouth Echo on 25 January 2019.
Tags: Bournemouth Echo, Business email overload, Declutter, Email overload and business performance, Stress and email overload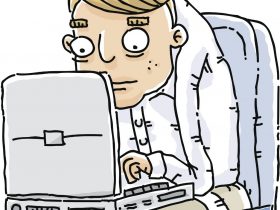 Studies over the past decade, link the rise in musculoskeletal disease to the increased time we spend working at our computers. In 2013 it was estimated that in the UK businesses lost about 30 million days through musculoskeletal related illness such as chronic back, lower limb, wrist and hand problems.
Improve your performance by keeping your whole body energised
Here are ten top tips drawn from talking to a range of medical and related experts (such as physiotherapists, orthopaedic specialists and ophthalmic consultants) to keep you at peek performance and ultimately save time whilst dealing with email (and indeed any technology related task).  Click here to read more.
This article first appeared in Executive Secretary Magazine, a global training publication and must read for any administrative professional. You can get a 30% discount on an individual subscription when you subscribe through us. Email subscriptions@executivesecretary.com and tell them we sent you.
Tags: Business email overload, Business Performance, Musculoskeletal disease, well being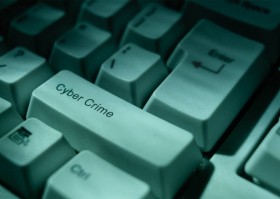 How much do you reveal in your Out-of-Office message and what is the risk of a cyber attack from it?   Out of Office messages are often the easy back door for a cyber attack.
Of the 135 recent Out-of-Office Message, six percent were past their sell by date which suggest a lack of attention to detail on the recipients part.  Fifteen percent gave away information about clients and projects handled by the organisation, about twenty percent were insecure and left the person open to cyber crime.  Many burglars troll out of office messages.  It would not take a cyber criminal ten minutes to find out where you live and bing – burglary.  The remaining 49% of messages were fine.
What makes a good safe and secure Out-of-Office message? Indeed why bother to pay attention to what your message says?  A simple message is best which just states that you are not in the office and gives one point of contact in the event of an emergency.  Any more (eg you are on holiday, other projects you are handling etc) and you leave yourself and the organsiation open to a breach of security and confidentiality.
Every email from you conveys and creates an image about you in the recipient's mind.  A careless, frivolous message can convey a sloppy, unprofessional image of you and a sloppy organisation.
Does your organisation provide adequate guidelines on the use of Out-of-Office messages?  If so what?
Tags: out of office message, Out of Office message cyber crime
Day 5 – Pulling It All Together
Whosoever desires constant success must change his conduct with the times. Niccolo Machiavelli
By changing your email behaviour during the week,  hopefully  you have reduced the email overload, have a clean inbox .  In addition you should have saved time. In the long term this will allow you to continue to reduce the email related stress and  improved your productivity and well-being.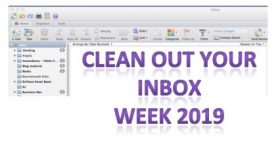 Now the trick is to keep a clean inbox and keep it under control. This means nudging and  encouraging others to change their email behaviour.
Email addiction is one of the major causes of email overload. It's the feeling that you must constantly check your inbox no matter where you are, what you are doing or what the time of day.  Moreover, we often default to email when of course there are a myriad of other ways to communicate. Try Mesmo Consultancy's PNDP framework to help you choose when an alternative niche be more effective such as WhatsApp, IM, etc.
Day five is about taking stock, checking you are not suffering from email addiction and making plans to keep your inbox out of the email overload zone.  Here is our three step plan for the last day.
Step 1  – Check your level of email addiction
Use Mesmo Consultancy's free Email Addiction self-assessment tool.  Identify your strengths and weaknesses and if necessary seek advice about how to control the urge to have another email fix.
In the coming days and weeks as you are about either to Reply/Forward or even 'Send' pause and ask yourself would an alternative be more efficient (eg talking, a discussion group on something like SharePoint, instant message etc)?
Step 2 – Review your action plan and goals
Look back to Day 1 and how much time you were losing. Now re-calibrate using our Cost of Email Misuse Calculator.  Where do you still need to make some changes?
Step 3 – Moving forward
How will you keep your inbox slim and control the email overload in the coming weeks?  Don't let email rule your day.  Don't feel you must check your email either first thing in the morning or every five minutes.  Rather try to disconnect from time to time. The most productive people are those who prioritise their time and stay focused on the task in hand.
Do you have colleagues who would benefit from managing their email more effectively as you have now done?  Yes, then call  us now to ask about our Smart Email Management master classes. Otherwise how about giving them a copy of either 'Brilliant Email' or 'Taking Control of Your Inbox'?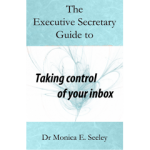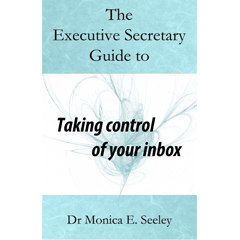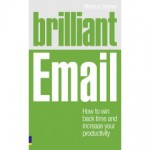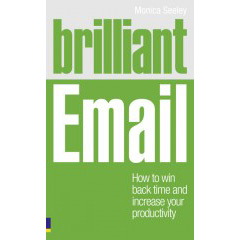 Celebrate – Dare to share
Share your progress; Email; Facebook: Twitter  (using #cleaninbox)  There is a prize (a copy of 'Brilliant Email') for the person who has made the most outstanding progress.  For instance, had five days of empty inboxes, reduced the number of rounds of email ping-pong by improving their email etiquette etc.
For  more resource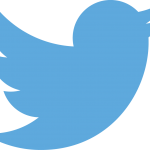 Follow me on Twitter using #cleaninbox.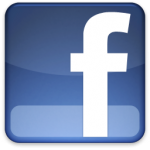 Join our Facebook page.
Thank you for joining us for this the 10th International Clean Out Your Inbox Week.  Feedback on how we can improve this event for next year is always appreciated.
Tags: Business email overload, clean out your inbox week, email addiction, Email behaviour